Posted by WalletGear on 11th May 2020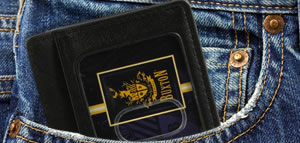 Out of 1427 people surveyed 54% prefer carrying their wallet in their back pocket. While only 34% carry them in their front pocket. Carrying your wallet in your front pocket can have benefits such as harder to pick pocket and not sitting on your wallet all the time.
Front pocket wallets are usually slimmer and they make you only carry only the necessary items you need in a minimalist way. Using a front pocket wallet will help you when you are on a budget. They're slimmer and smaller in design which will reduce the amount of cash and cards you will be able to carry. The style of these wallets are in trend with the slim to your figure clothing that is all the rage. However it may be a while before they catch up to wallets carried in men's back pants pockets.
We asked which pocket do you carry your wallet?
Front Left Hand Pocket - 19%
Front Right Hand Pocket - 15%
Back Right Hand Pocket - 30%
Back Left Hand Pocket - 24 %
Purse, satchel, bag, other - 12%